Kirsten Kühlke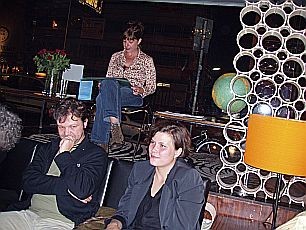 Biography
Kirsten Kühlke was born 1965 in Rüsselsheim, where she is also living today. After the A levels she studied pre- and protohistory and classical archaeology in Mainz, gradually replaced by free painting in Wiesbaden, consistently leading to a degree in social sciences in Frankfurt am Main ... increasingly writing, off and on troubled by vital workings, recently as conference manager of an art foundation. After dropping all that now freelance writer.
Kirsten Kühlke was awarded with the 2nd place of the literary prize of the bookfair in Ried in the years 1998 and 1999, in the same year moreover with the Frauenliteraturpreis Kreis Groß-Gerau and with the Würth-Literaturpreis / Poetikdozentur of the University Tübingen. Under the pseudonym Sten Kühlk she was 2001 in the final stage of the Open-Mike of the Literatur-Werkstatt Berlin, before she won the Allegra Literaturpreis in 2003.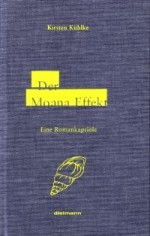 Der Moana Effekt
Novel capriole
334 pages
Series Die Hauptwerke
978-3-933974-46-4
Blue endlessness
The novel tells the story of a couple, Heinrich and Henriette Heinz from Rüsselsheim, who, being unemployed, set forth on a journey due to a humble heritage, certainly in the south. This journey evolves into a education sentimentale, during which they meet Be'Haddih, an oriental hedonist and raconteur. In this confrontation of the reasonable moral rectitude with a world of uninhibited phantasy they get peu à peu in on the essence of the Moana effect. The word comes from the Polynesian and means »blue width« or »blue endlessness«.
So it happens that Heinrich admits his relief about – probably – being lost on their unplanned cruise from Marseille to Africa, a remarkable transformation of the upright engineer. But that is not all: he also tells a fictional story, for him a frivolity against the mind of accounting honesty. His wife Henriette has even earlier succumbed to the effect, her disposition in this regard is ascertainable already at the very beginning of their journey (still without Be'Haddih), when she lavishly throws a coin into a mossy Italian fountain. A very nice confirmation for the reality of fantasy is found in the fact that the story is told – in competition – by a manbag and a housefly, wherby the housefly holds the far more reflective part. »Der Moana Effekt« is not only a splendidly written novel, but also a case for the warrant of unrestrained fabulating. Moreover, it is an objection for the vital power of imagination.