Veronika Simoniti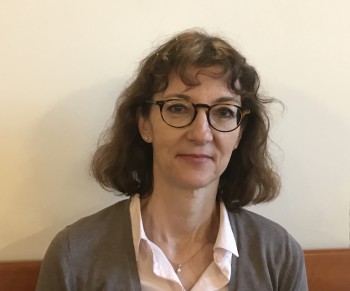 Veronika Simoniti, born in 1967, has a degree in Roman languages and worked for several years as a freelance translator from Italian and French after her studies. She translated literary texts for various publishers, taught at various public schools and worked for a time as a lecturer for Italian at the Faculty of Philosophy in Ljubljana.
At first she wrote fairy tales for Radio Slovenija. Her first short story Metuljev zaliv (The Butterfly Bay) was awarded a prize in a competition organised by the magazine Literatura in 2000. This was followed by publications in various literary magazines and on the radio. She received several awards and nominations. Her debut, the short story collection Zasukane štorije (Twisted Stories, LUD Literatura 2005), was nominated for the best first work of the year and was shortlisted for the best Slovenian short prose collections for the Fabula Prize in 2006 and 2007. In 2011, her second short story collection Hndičev jezik (Devil's Language) was published (again by LUD Literatura). Two of these stories were also published in the literary supplement of the Slovenian daily Delo. Veronika Simoniti is featured in both the English-language short story collection A Lazy Sunday Afternoon (Slovenian Authors Born After 1960, Slovenian Writers' Union 2007) and the anthology of Slovenian women writers Kliči me po imenu (Call Me by My Name, Študentska založba 2013).
In 2018, a selection of Simoniti's short stories was published by the renowned US publisher Dalkey Archive Press under the title Mere Chances (translated from English by Nada Grošelj). Excerpts from her stories have been published in various translation catalogues by Slovenian authors (Ten Authors from Slovenia, Frankfurt 2006; European First Novel Festival, Budapest 2006; Cromografie, Ljubljana 2007; Pordenonelegge 2010. L'Europa senza confine, Pordenone; Ten Books from Slovenia, Ljubljana 2013 and 2015), individual stories in various countries and languages (German, Italian, Croatian, Serbian, Czech, Hungarian). Her first novel Kameno seme (The Stone Seed) was published by Litera in 2014 and was shortlisted for the Kresnik Prize 2015 for the best Slovenian novel. In 2019, the publishing house Cankarjeva založba will publish her second novel Ivana pred morjem (Ivana in front of the sea), which was nominated for the Modraptica Prize for the best manuscript. The author lives and works in Ljubljana.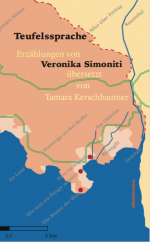 Teufelssprache (Devil's Language)
18 narrations
Hardcover
with ribbon marker
196 pages
translated by Tamara Kerschbaumer
eBook ISBN 978-3-86638-418-7
978-3-86638-418-7
22.00 €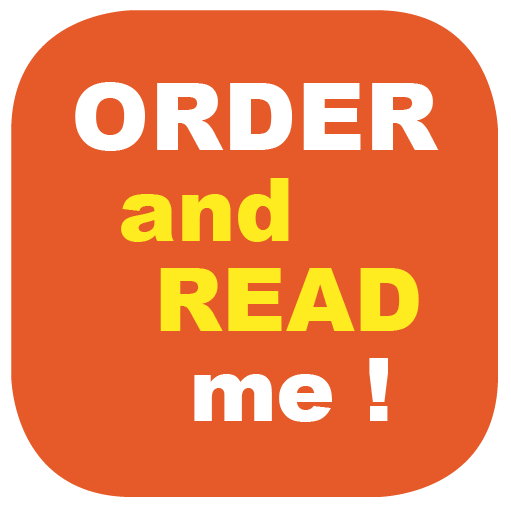 The stories in »Devil's Language« are complex, magical in places, but above all they often take us back to the most sore spots in history—they are about uprooted people, border crossers and all those individuals who push these boundaries, for example in art.

»My three favourite things in this world?« Veronika Simoniti once asked herself. And she answers: »I would say stories above all, I could also say stories, stories, stories. [...] ones with endless possible entanglements and resolutions, but only in one of them and in a single resolution, and I want to know why, out of all the thousands of possibilities, exactly this entanglement and exactly this resolution.«

One detects a flirtation with the artistic tradition of the 20th century; for in Simoniti's narratives appear Joseph Brodsky, Wilhelm Herschel, Guillaume Apollinaire, Ivan Cankar, Max Brod, Avgust Černigoj, Carlo Michelstaedter, Silvina Ocampo and Alejandra Pizarnik, among others. It may seem to us »that it is almost self-evident that past literature and history, as a slightly different way of shaping fiction, are part of our experiences, the experiences of readers and translators and colonisers and pioneer explorers of the worlds of letters.«
THIS is the Table of Contents, all 18 narrations.