Susanne Bartsch
After her debute novel »Familienquiz« (familyquiz) (dtv) Susanne Bartsch now presents her second satiric book filled with black humour at the axel dielmann – verlag, in which she gets rid of all the taboos...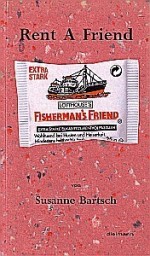 Rent A Friend
novel
spnsored by Fisherman's Friend/Fa. Wilms
224 pages
Series Label (Reihe ETIKETT)
978-3-929232-86-8
Not in our programm anymore:
The book has been baught by DTV as a paperback, we have been able to sell a film-option – but unfortunately we are still waiting for a greater, sustainable success. What a pity. It is an amusing book with his penny dreadful of an agency for renting friends. ...