Martin Roda Becher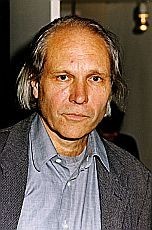 Martin Roda Becher was born in New York in 1944. He works as author and director in Basel and Vienna and is also a freelancer at different journals and newspapers. After being an assistant director at different heaters and feature film productions he staged his crimefarce»THRILL« in Basel in 1997. – His literary debute was the »chronicle of a moist evening« (1965), it was followed by seven volumes of novellas and novels. The first publication at axel dielmann verlag had been »The pink goat/ A legend of the world of art« in time for the opening of the art exhibition ART Frankfurt in 1996. The book was also sponsored by the art exhibition. The volume with three novellas "Abschiedsparcours" turned out to be a foul surprise for both the author and out publishing house: Zoe Jenny and her father obtained a provisional injunction against the novella »Hummerpark«, because one of the character of the novella, was alledgedly based on her.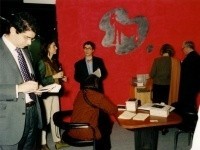 May 1997
As a part of the cooperation with the sponsor Messe Frankfurt / ART Frankfurt the publisher Dielmann is present at the art fair ART in Frankfurt. Die Rosa Ziege – what means The Pink Goat – from author Martin Roda Becher, is the reason for the stand that is dressed in pink fur.
As a result of the art fair there were 30 newspaper articles – and of course a lot of fun and a bold art book. From now on joint appearances with the partner are in the repertoire of the series ETIKETT.
Book fair 1997
The volume of poetry »unter fischen spricht man fisch« from Manfred Peckl is published as the 10th volume of the series ETIKETT. It is the first edition including an original artists' work.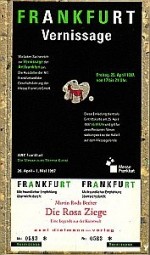 Die Rosa Ziege
a legend from the world of art
sponsored by Messe Frankfurt/ ART Frankfurt
96 pages
Series Label (Reihe ETIKETT)
978-3-929232-27-8
11.00 €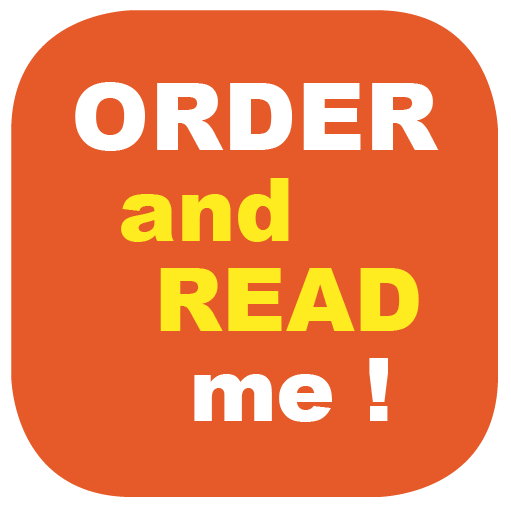 »Die rosa Ziege« is a Kafkaesque satire on the art scene, its howlers and other plants and proliferations – take a look at what else this author, who is wonderfully educated in the the classicism of narrative modernism, has to offer.