Axel Dielmann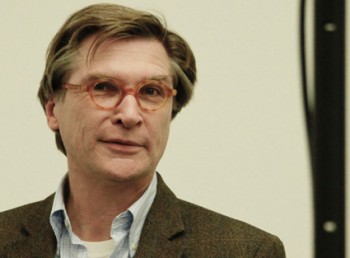 I was born in Frankfurt am Main in 1959. I have studied physics, psychology and philosophy here in Frankfurt. I have founded a literary magazine called SCHRiTTE in 1982 and financed it with the help of sponsors, until it had grown into my current publishing house for literature (1993). – Apart from the later on stated publications, which I have closely worked on as publisher as well as auther, since I have cowritten them. In October 2013 my friendly colleague Georg Stauth dared to publish three novellas about works of arts: Nizza oder Die Liebe zur Kunst (Nice or In Love with Arts) in his then new Vantage Point World publishing house. I enjoyed readings of this book in some 30 places, amongst which Lesecafé in Sachsenhausen, Legnaro/Liguria Italy, ART Basel, Aachen, Bad Soden and Bayreuth were most exciting. (More at Vantage Point or via neugier@dielmann-verlag.de).
A most friendly article from FAZ Weekend Edition (March 2nd, 2014to be downloaded HERE) tells more.
My personal website www.axel-dielmann.de for additional info.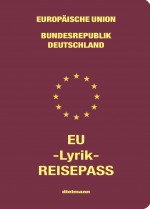 EU Poetry Passport
64 pages
softcover of our EU passport
in the tried and tested
format 91 mm by 125 mm
978-3-86638-400-2
10.00 €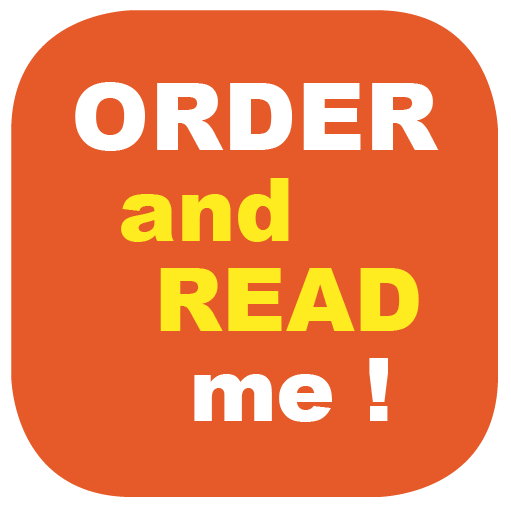 Imagine a small booklet in the format of our passport—that official Bordeaux-red pseudo-linen-covered thing with all the visas and stamps of our travels. Now, however, not with the pages for all the entry and exit stamps as content, but 27 sheets, the double pages of which are each populated with one or two poems on the theme: »Border, Passport, Visa, Foreigner, Nation, Neighbour, Neighbouring Country«.
What's more, the poems each come from one of the 27 EU countries, all of which are thus poetically removed from their borders—in short, a poetry passport across the whole of Europe (i.e. the officialised current Europe of the EU).
The passport is the noblest part / of a human being.
So wrote Bertold Brecht, still enthusiastic about the great invention of a document that identifies people as members of states, but precisely because of this guarantees the inviolability of free movement and personality—because this passport is sovereign property, therefore cannot be arbitrarily confiscated in a foreign country and its bearer cannot be arbitrarily detained.
The stamps in our document have been, shall we say, simulated. They do not express any sovereignty or state pomp; they simply list the poets who have written about the border and the journey, indicate their year and place of birth—HERE you'll see; and that is all we need for our journey.—Wait, maybe this:
Attached to the stamps is another home of this project: the European Book Projects. This is an EU-wide project by axel dielmann – verlag and Frankfurt Academic Press and 34 other partners across Europe. At the heart of the project is the observation from almost 30 years of publishing work that a high percentage of book projects already have the potential to be published in some or several, sometimes even all, EU countries in the early stages of their development—in other words, European Book Projects. The EU Poetry Passport is one such European Book Project that I would like to see realised in all EU countries.—More soon at www.europeanbookprojects.eu.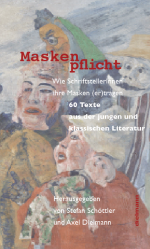 Mask Obligation
An Anthology to the Mask
432 pages
Hardcover with Ribbon
978-3-86638-338-8
20.00 €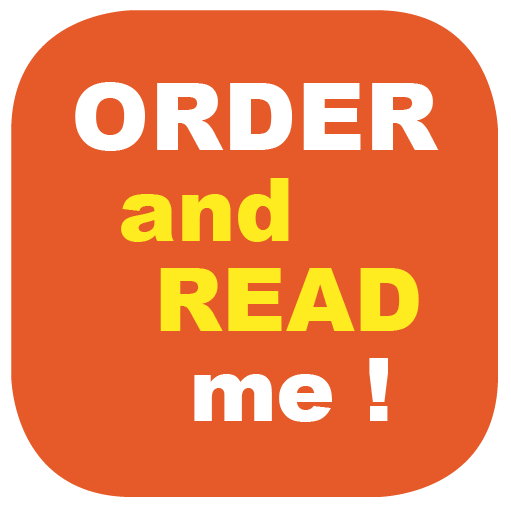 Literature has always found the many faces of the mask appealing. Writers of world literature have collected the diversity of masks and mask-wearing in their texts. And so does our book:

We currently use it for much-needed protection against viruses: the mask, which already found equal use in the time of the plague, albeit then more as a fetish. However, its history and areas of use are vast and ultimately represent a piece of human and cultural history. We appreciate it as a wellness and cosmetic mask, we use it as a work mask, it is used by welders, divers, painters, miners, surgeons and in medicine in general. The oxygen mask is indispensable for the ventilation of patients and in anaesthesia. As partial body protection, the mask was joined by a number of siblings, such as goggles, rubber gloves, a smock, a helmet, work shoes, earmuffs, and even the cowboy's neckerchief was a protective mask against dust, as long as it was not used in »Westerns« as camouflage for robbing banks and stagecoaches. The ban on disguise in the wake of the 1968 uprisings, the Arab masquerade and the veil were and are hotly debated uses of the mask, whereas the theatrical mask is as old as the history of mankind; here it is at the same time a representative of the »persona«, and as the famous »character mask« it even provides sociological models. We know individual masks as erotic accessories, as implements they are suitable for carnival and war paint, they are costumes and camouflage, and as gas masks they have become a sad and much-lamented tool of war. – The mask is misused for deception and disguise, serves mimicry and simulation, where on the other hand it formulates profound rituals in early societies. As a traditional instrument of remembrance of people who have passed away, we value it as a death mask, whereas the mask has become hypermodern and virtual since it became an »input mask« and thus the surface and interface of the digital world.

And now, almost in this modern sense, we use it again as a »firewall«: as a border between inside and outside, as a semi-permeable wall between the individual and society – and so the mask remains one of the great themes of our world. – Our authors and mask wearers are:
Giovanni Boccaccio: Das Dekamerone / 32. Erzählung
Jean Paul: Flegeljahre / Nr. 63. Titan-Schörl
E.T.A. Hoffmann: Prinzessin Brambilla, 8. Kapitel
Edgar Allen Poe: Die Maske des Roten Todes
Rainer Maria Rilke: Die Aufzeichnungen des Malte Laurids Brigge
Rainer Maria Rilke: Das Stundenbuch: Das Buch von der Pilgerschaft
Hans Magnus Enzensberger: Botschaft des Tauchers
Arthur Schnitzler: Traumnovelle, IV Kapitel
Jan Lauwereyns: Monkey Business – die chirurgische Maske und ihre Geschwister
Wolfgang Borchert: Draußen vor der Tür / 2. Szene – eine berühmte Gasmaske
Robert W. Chambers: The King in Yellow / The Mask
Gert Reising: Im Hambacher Wald – eine Maskierung
Francesca Melandri: Alle außer mir – eine Gipsmaske wird abgenommen
Peter Huchel: Der Schlammfang
Bret Easton Ellis: American Psycho – eine Gesichtspflegemaske wird aufgelegt
Charles Baudelaire: Lob der Schminke, moderne Maler
Casanova: Masken der Verführunge
Ewart Reder: Der Rauch
Bernhard Bauser: Das schnelle Herz
Friedrich Schiller: Das verschleierte Bildnis zu Sais
Johann Wolfgang Goethe: Italienische Reise
Chitra Banerjee Divakaruni: Tigermaskenritual
Stefan Frank: Dr. Stefan Frank, unsichtbare Gegner – Schutzmasken in einer Arztpraxis
Stefan Heym: Collin – eine Sauerstoffmaske bringt Rettung
Peter Sebastian: Als die letzte Maske fiel – ein Anästhesie-Arzt und seine Beatmungsmaske
Walt Whitman: Out from behind this Mask
Archibald MacLeish: J.B. – eine göttliche und satanische Theatermaske streiten sich
Thomas Hardy: The Masked Face
Herman Melville: Moby Dick
W.B. Yeats: Die Maske
Maja Haderlap: Deckname
Sünje Lewejohann: Salzbleich
Hermann Broch: Die Verzauberung
Siri Hustvedt: Die gleißende Welt
Stay curious – as well as cured!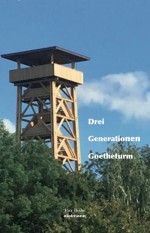 Drei Generationen Goetheturm (Three Generations for Goethe's Tower)
About His( )Story
Series »16pages«
Hand bound
40 pages
many illustrations
978-3-86638-296-1
9.00 €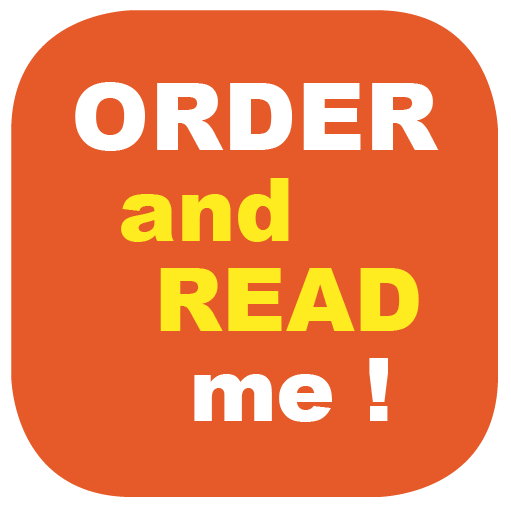 In 2017, the people of Frankfurt were startled by a series of arson attacks on some of their most beautiful wooden buildings—and on the night of October 11 to 12, 2017, one of Frankfurt's landmarks fell victim to this: the Goetheturm burned down to its foundation pillars.
Three years later, on October 12, 2020, the Goetheturm is reconstructed. Since it is time to tell a portrait of the once highest wooden tower in Germany and the story of that excursion destination, which has given almost all Frankfurt residents a view of the Main metropolis and its further surroundings.
Compiled by Axel Dielmnn & Sophia Lippemeier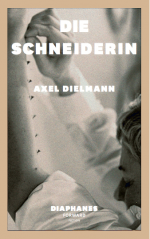 Die Schneiderin (Model's Cut)
An Art narrative
978-3-0358-0184-2
10.00 €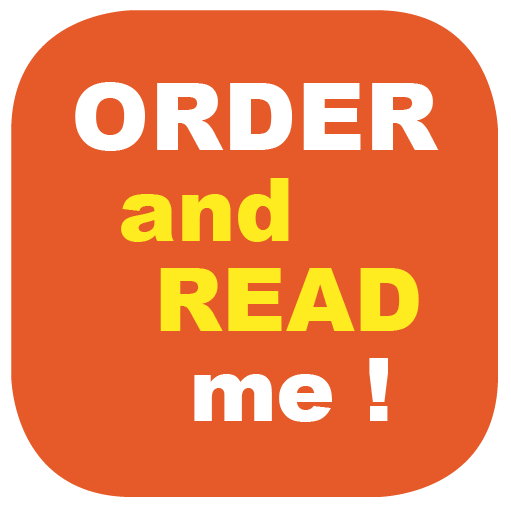 A psychotherapist visits an exhibition of Body Art, which ist displayed in a historic anatomy building. Because he has learned, one of his patients, who sratches herself, is on display here. Does he look at the many other self-inflicted injuries of the exibition so closely and at such length because he would rather not see at the end the presumably very large, foreseeably very incisive product of their wounds?—He is on the trail of himself.
A long extract from the story appeared bilingually in German and English in diaphanes Magazin, see pages 27 to 36 HERE.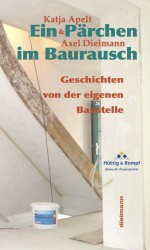 Our First House
Hardcover
240 pages
Main Sponsor: Hüttig & Rompf AG
and partners of our chapters
978-3-86638-224-4
18.00 €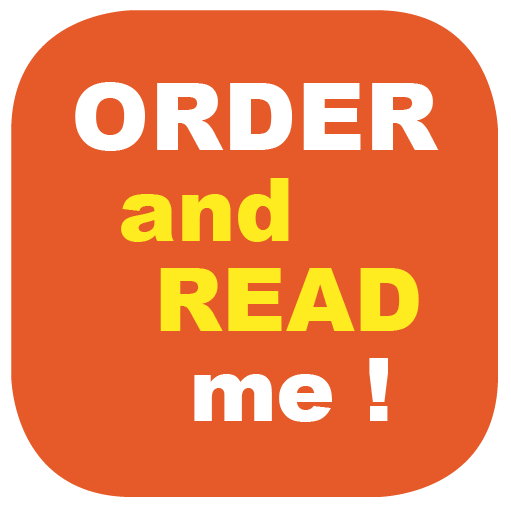 Low interest rates, attractive real estate offers, comfortable living conditions – it makes sense for an increasing number of people in Germany, to get their own house as it is common in England or Italy. Who is brave enough to do it will experience a big adventure: Building or reconstructing a house comes up – in addition to a lot of new experiences. Therefore our book »Our first house« will work miracles as an encourager!
In 40 chapters the different aspects of buying and reconstructing a house will be presented. Personal experiences of a couple that is rebuilding a house is combined with the professional view of experts. Different parts of the product and service sector will be included, from the financing and the credit possibilities over the aspect of choosing tiles and fittings up to thermal insulation and the exchange of windows and so on … The several chapters include 5 to 7 pages that are accentuate with some pictures from the practice. – The volume will be published in the Series LABEL, but not as usual with just our single main sponsoring partner Hüttig & Rompf AG, but with additional partners for each chapter.
On one hand the book is for entertaining the audience with all the accidents and mishaps but on the other hand it also gives practical tips and encouragements: Go on! You can do it! Proceed with some good advice!
Due to the big number of the annual house purchases, a big readership could be expected. Moreover, the book will be sold by all relevant distributors concerning the house construction. Furthermore the book will be published as an e-book version as well (ISBN 978-3-86638-225-1 for 9,99 Euro).
Our main sponsoring of this book is Hüttig & Rompf AG
Soon, here you'll find the partners of the single chapters of the book and dates for first readings – keep looking!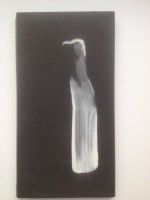 Falk Plan
an artists map
Black-and-white print
with a couloured bit
cut and foulded, in a hand painted box
Falk-Plan
220.00 €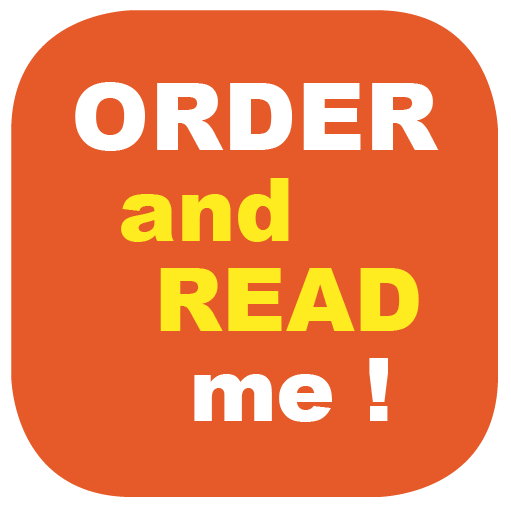 Numbered and signed by Joanna Jones and Axel Dielmann. Print run: 250 copies.
Copies No. 88 / 250 and 29 / 250 are still available at our publishing house.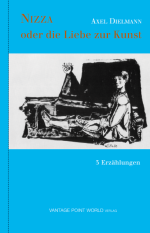 Nizza oder Die Liebe zur Kunst
three novellas
112 pages
Hardcover
with three illustrations
978-3-9815354-9-5
16.85 €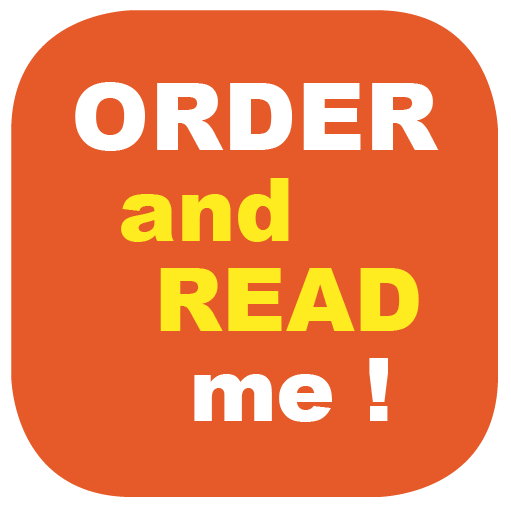 Whoops, something has crept in: This small volume with the three novellas about very unortodox acces to temporary art, has been published at the colleague Georg Stauth and his Vantage Point World-publishing house, which I enjoy.
HERE is were you can find more informations about it.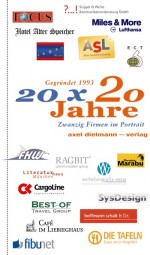 20 x 20 years
20 Companies in portrait
192 pages
Series Label (Reihe ETIKETT)
978-3-86638-220-6
20.00 €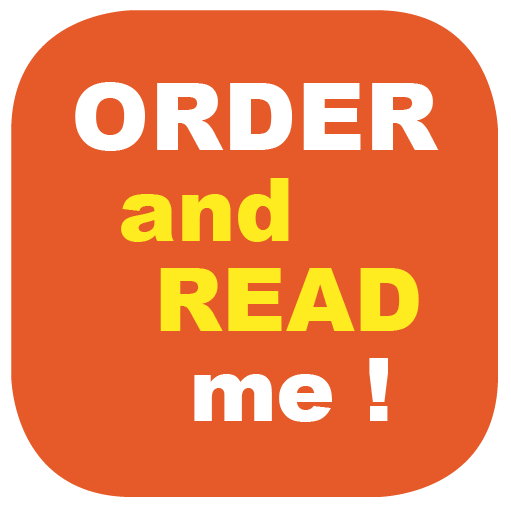 All of this companies have the same age like my publishing house. As we celebrated 20 years of publishing I didn´t want to just tell our story: As my publishing house would be nothing without all the contacts and cooperations with authors and other business partners, it seemed to make sense to see who else was 20 years old, who shared these 2 decades of business, who had another interesting story to tell. Here they are:
News Magazine FOCUS
Best of Travel Group BOTG
Die Tafel
Theater Marabu Bonn
Hotel Alter Speicher Wismar
Advert Photography Weiss
Highschool Westküste
Seippel & Weihe Consultants in Communikation
ECT Labratory for Oekotoxicology
Coffee at Liebieghaus
ASL AgencySteglich Leipzig
Hoffmann Schalt & Cie Advertising Agency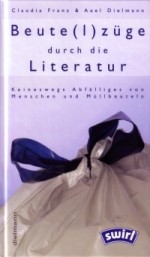 Beute(l)züge durch die Literatur
not in any way deterogatory remarks about humans and rubbish
80 pages
Sponsor: Melitta Unternehmensgruppe / SWIRL ®
Series Label (Reihe ETIKETT)
978-3-933974-76-1
14.00 €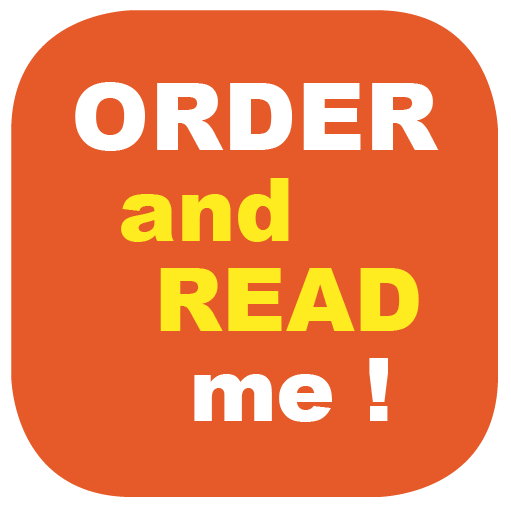 An anthology
Many clever things about the book and its content is known by its first readers and buyers, about which you can read here!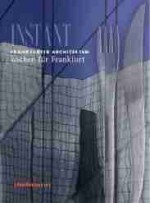 INSTANT
Frankfurt's architects cook for Frankfurt
96 pages
apart from series (außer der Reihe)
With many reproductions and architect's portraits
Hardcover
978-3-86638-131-5
15.00 €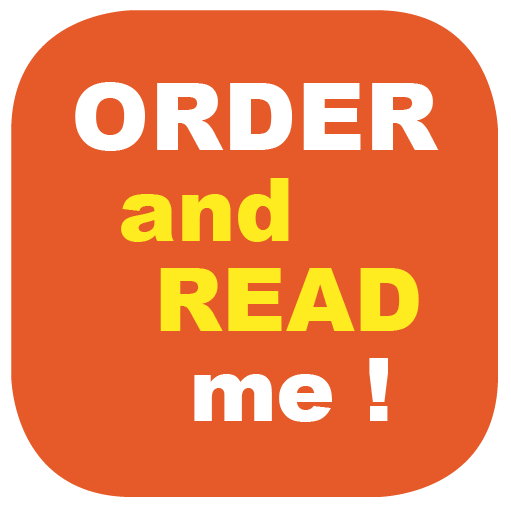 21 fine recipes of the kitchen in Frankfurt
21 of the most creative architects ofFrankfurt are in this book – and they come up with their own favorite recipes. Frankfurt's architects cook for Frankfurt: from frankfurters with potato salad to opulent menus they all prove to have an excellent taste in both at the table and in public spaces.
»The way to a man's heart is through his stomach« is how the saying goes. The same goes for the love to a city, our city Frankfurt. – »Enjoy your meal!« is what we say under the roofs and the many fronts of Frankfurt.