Axel Dielmann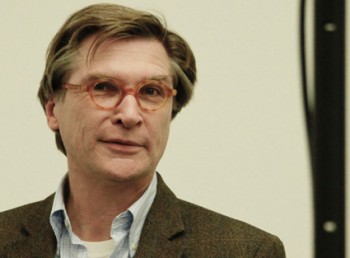 I was born in Frankfurt am Main in 1959. I have studied physics, psychology and philosophy here in Frankfurt. I have founded a literary magazine called SCHRiTTE in 1982 and financed it with the help of sponsors, until it had grown into my current publishing house for literature (1993). – Apart from the later on stated publications, which I have closely worked on as publisher as well as auther, since I have cowritten them. In October 2013 my friendly colleague Georg Stauth dared to publish three novellas about works of arts: Nizza oder Die Liebe zur Kunst. in his new Vantage Point World publishing house. I enjoyed readings of this book in some 30 places, amongst which Lesecafé in Sachsenhausen Legnaro/ Liguria, ART Basel, Aachen, Bad Soden and Bayreuth were most exciting. (More at Vantage Point or at neugier@dielmann-verlag.de).
A most friendly article from FAZ Weekend edition (to be downloaded here) tells more:

Downloads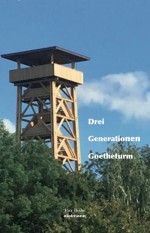 Drei Generationen Goetheturm (Three Generations for Goethe's Tower)
About His( )Story
Series »16pages«
Hand bound
40 pages
many illustrations
978-3-86638-296-1
In 2017, the people of Frankfurt were startled by a series of arson attacks on some of their most beautiful wooden buildings—and on the night of October 11 to 12, 2017, one of Frankfurt's landmarks fell victim to this: the Goetheturm burned down to its foundation pillars.
Three years later, on October 12, 2020, the Goetheturm is reconstructed. Since it is time to tell a portrait of the once highest wooden tower in Germany and the story of that excursion destination, which has given almost all Frankfurt residents a view of the Main metropolis and its further surroundings.
Compiled by Axel Dielmnn & Sophia Lippemeier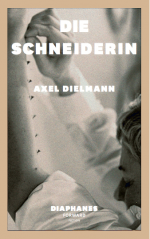 Die Schneiderin (Model's Cut)
An Art narrative
978-3-0358-0184-2
A psychotherapist visits an exhibition of Body Art, which ist displayed in a historic anatomy building. Because he has learned, one of his patients, who sratches herself, is on display here. Does he look at the many other self-inflicted injuries of the exibition so closely and at such length because he would rather not see at the end the presumably very large, foreseeably very incisive product of their wounds?—He is on the trail of himself.
A long extract from the story appeared bilingually in German and English in diaphanes Magazin, see pages 27 to 36 HERE.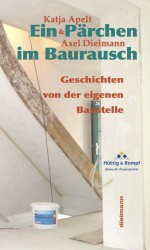 Our First House
Hardcover
240 pages
Main Sponsor: Hüttig & Rompf AG
and partners of our chapters
978-3-86638-224-4
Low interest rates, attractive real estate offers, comfortable living conditions – it makes sense for an increasing number of people in Germany, to get their own house as it is common in England or Italy. Who is brave enough to do it will experience a big adventure: Building or reconstructing a house comes up – in addition to a lot of new experiences. Therefore our book »Our first house« will work miracles as an encourager!
In 40 chapters the different aspects of buying and reconstructing a house will be presented. Personal experiences of a couple that is rebuilding a house is combined with the professional view of experts. Different parts of the product and service sector will be included, from the financing and the credit possibilities over the aspect of choosing tiles and fittings up to thermal insulation and the exchange of windows and so on … The several chapters include 5 to 7 pages that are accentuate with some pictures from the practice. – The volume will be published in the Series LABEL, but not as usual with just our single main sponsoring partner Hüttig & Rompf AG, but with additional partners for each chapter.
On one hand the book is for entertaining the audience with all the accidents and mishaps but on the other hand it also gives practical tips and encouragements: Go on! You can do it! Proceed with some good advice!
Due to the big number of the annual house purchases, a big readership could be expected. Moreover, the book will be sold by all relevant distributors concerning the house construction. Furthermore the book will be published as an e-book version as well (ISBN 978-3-86638-225-1 for 9,99 Euro).
Our main sponsoring of this book is Hüttig & Rompf AG
Soon, here you'll find the partners of the single chapters of the book and dates for first readings – keep looking!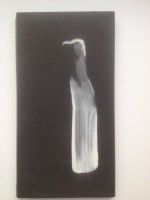 Falk Plan
an artists map
Black-and-white print
with a couloured bit
cut and foulded, in a hand painted box
Falk-Plan
Numbered and signed by Joanna Jones and Axel Dielmann. Print run: 250 copies.
Copies No. 88 / 250 and 29 / 250 are still available at our publishing house.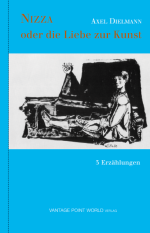 Nizza oder Die Liebe zur Kunst
three novellas
112 pages
Hardcover
with three illustrations
978-3-9815354-9-5
Whoops, something has crept in: This small volume with the three novellas about very unortodox acces to temporary art, has been published at the colleague Georg Stauth and his Vantage Point World-publishing house, which I enjoy.
HERE is were you can find more informations about it.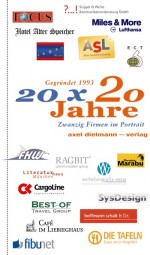 20 x 20 years
20 Companies in portrait
192 pages
Series Label (Reihe ETIKETT)
978-3-86638-220-6
All of this companies have the same age like my publishing house. As we celebrated 20 years of publishing I didn´t want to just tell our story: As my publishing house would be nothing without all the contacts and cooperations with authors and other business partners, it seemed to make sense to see who else was 20 years old, who shared these 2 decades of business, who had another interesting story to tell. Here they are:
News Magazine FOCUS
Best of Travel Group BOTG
Die Tafel
Theater Marabu Bonn
Hotel Alter Speicher Wismar
Advert Photography Weiss
Highschool Westküste
Seippel & Weihe Consultants in Communikation
ECT Labratory for Oekotoxicology
Coffee at Liebieghaus
ASL AgencySteglich Leipzig
Hoffmann Schalt & Cie Advertising Agency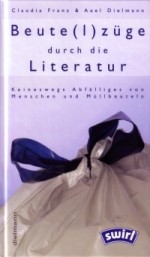 Beute(l)züge durch die Literatur
not in any way deterogatory remarks about humans and rubbish
80 pages
Sponsor: Melitta Unternehmensgruppe / SWIRL ®
Series Label (Reihe ETIKETT)
978-3-933974-76-1
An anthology
Many clever things about the book and its content is known by its first readers and buyers, about which you can read here!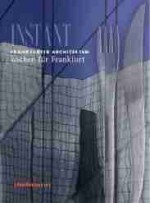 INSTANT
Frankfurt's architects cook for Frankfurt
96 pages
apart from series (außer der Reihe)
With many reproductions and architect's portraits
Hardcover
978-3-86638-131-5
21 fine recipes of the kitchen in Frankfurt
21 of the most creative architects ofFrankfurt are in this book – and they come up with their own favorite recipes. Frankfurt's architects cook for Frankfurt: from frankfurters with potato salad to opulent menus they all prove to have an excellent taste in both at the table and in public spaces.
»The way to a man's heart is through his stomach« is how the saying goes. The same goes for the love to a city, our city Frankfurt. – »Enjoy your meal!« is what we say under the roofs and the many fronts of Frankfurt.