Eulengasse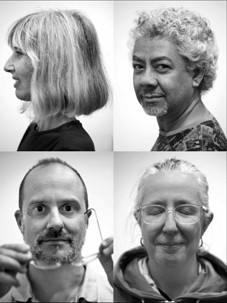 Exhibitionspace in Frankfurt-Bornheim
The exhibitionspace EULENGASSE celebrates its 10th birthday: the artists around Helga Marc, Vládmir Combre de Sena, Harald Etzemüller and Martina Templin clebrate this jubilee with a book, which does not only sums up 10 years of artistic actions, but conveys a whole concept of art.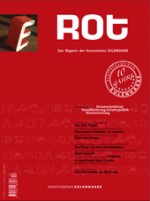 ROT
10 years Eulengasse
artistic book
152 pages large scale
4 coloured softcover volume
978-3-86638-180-3
15.00 €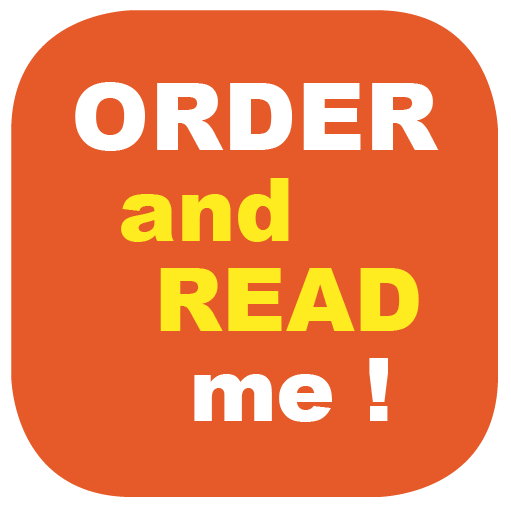 The content of this volume, designed by zukunftssysteme.de and Harald Etzemüller, reads like a tour through the essential themes of art from the beginning of the 21. century.
Thematic focus on art interpretation
Martina Templin:
The red thread: The theme of the year as oriantation for the art interpretation
Jeannette Faure:
unforseen encounters. An unusual galery with many facets
Sybille Fuchs, Jan Jacob Hofmann, Sonja Thiel:
Every human is a gardener
Dr. Isa Bickmann:
Keep it in flux. about the dialogic installations of CaBri (Carolyn Krüger, Brigitte Kottwitz)
Brigitta Amalia Gonser:
What our artists do. The questionary as instrument in art: a cross section break down
Simone Kraft:
All a question of ... The interview through mail as medium of art interpretation
Carolyn Krüger:
Polyversum. A try of a scentific explenation by Carolyn Krüger
Marcelo Coutinho:
About the de-lussion as method
Guestarticle, Brasilien Guestcountry of the Frankfurter Bookfair 2013
Thematic focus on furtherance of art & cultural and educational policy
Jos Diegel:
Open Call: The artist looks good and is a genius. Unfortunately cause enough to further
Stefan Beck / Harald Etzemüller:
Watering can and charity: about the disproportionality of municipal furtherance of art
Verena Lettmayer, Eva Moll, Charlotte Malcolm-Smith, Ruth Luxenhofer:
Less is always possivle: A resumée about the »Schrankstipendium« in the Kunstraum Mato, Offenbach
Jannis Plastargias:
»I would wish ...« About the picture of the artist, about creativity, about the youth of today
Jörn Klein interviewsHarald Etzemüller:
Theory of sets. Crowdfunding as a new finacial source for artistic projects?
Dr. Silke Kirch:
On what does one smear art? Kulturcampus, Atelier Frankfurt, EULENGASSE? A critical statement
Almut Aue, with illustrations by Hanna-Rut Neidhart:
Kerschemäus. Aan Disput uff Frankford-Pidgin
Thematic focus on classification of art
Joachim Albert:
Exploration of unknown teritorry. About the works by Barbara Greul Aschanta and Jörg Eibelshäuser
Mariola Brillowska:
Better suffering in the swirl then sleeping while standing
extracts of the recently published novel »Hausverbot«
Matthias Ulrich interviewtsVanja Vukovic:
Open Space? The relation between art, public spaces and social processes
Heide Khatschaturian, Karin Nedela:
The Story about the undergarmets. About the special relation between Offenbach and Frankfurt am Main
The Fanclub pub-sceen Frankfurt/Offenbach. An analysis
Marc Wolf:
»blue monochrome« A novella
Andrea Altemüller:
architect's and artis'portraits Sao Paulo, Brasilien
Harald Etzemüller:
Habitat. The human home as sculpture
Verena Lettmayer:
»Artist in Offenbach« im conversation with Dr. phil. Sylvia Fehling (Universität Kassel)
Claudia Riquelme, Esteban Céspedes:
»I could have done it too!« Realizability and causality in art creation