SCHRiTTE
Magazine for Literature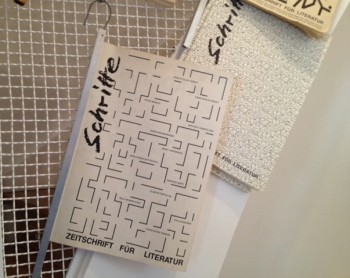 Magazine for literature
Founded in 1982 it was edited by Axel Dielmann, Klaus Hensel, Stefan Klamke, and Rolf Werner Kunz for 10 years – it was the root of the publishing house axel dielmann: Clamped in own newspaper holders, 24 pages formated DIN A 3, the magazine was found regulary in cafes, the last volumes in 1.400 cafes nationwide. With the foundation of the book program it was not possible to manage that any longer. In 1996 there was a short comeback, but the books took their toll, it was not possible to publish 4 to 6 magazine volumes, while also looking after about 15 books per year.

RELAUNCH!

The magazine reached about 180.000 to 250.000 readers per issue at this time with its lyric, short prose works, excerpts from novels, Graphic Novel, excerpts from theatre plays, essays. And in authum of 2015 it is planed to bring them back in 540 cafes nationwide, to reach some 50.000 to 60.000 readers. The City of Frankfurt am Main supports the relaunch most friendly. – With each issue its planed to bring the magazines into 80 additional cafes. At least two public readings in alterning cities should promote authors and texts.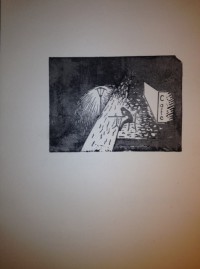 Magazine for Literature SCHRiTTE
Format DIN A 3
24 pages each
munificent design
in coffee-houses in its own newspaper sticks
On the left the first edition of 1982
Cover with linoprint
by Detlef Schumacher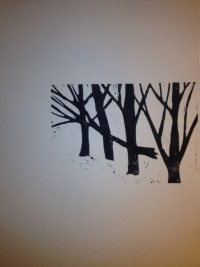 SCHRiTTE • 2 to 4
The following editions contained poems and prose by Rolf Werner Kunz (†) and Stefan Klamke as well as Axel Dielmann.
The covers with linoprint and woodcut were designed by Roman Engel (on the left No. 2), Hans Jürgen Diez and Stefan Klamke.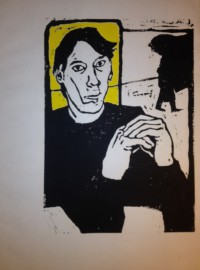 SCHRiTTE • 5
The cover of SCHRiTTE No. 5 by Nikolai Wassiliew brought a blaze of colour: while the texts and insides were still copied black-and-white onto DIN A 3 – pages, the linocut of the cover is colored by hand – every single one of the 200 magazines, which meanwhile have been put up in 150 cafés.
With texts by Klaus Hensel, Uwe Jährling, Stefan Klamke, Wilhelm E. Liefland and Heine Stegner.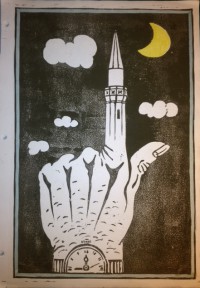 SCHRiTTE • 6 and 7
Klaus Hensel joined the editorial department of Axel Dielmann, Rolf Werner Kunz and Stefan Klamke. He brought lots of new contacts with him, among others authors who just fled from Transylvania/Romania to Germany.
Issues 6 (the cover on the left designed by Wolfgang Oppermann) and 7 contained texts by Inga Buhmann, Ricarda Grünberg, Nazim Hikmet (who is extremely current today), Rolf Werner Kunz, Aras Ören (see above) and Axel Dielmann, as well as by Rolf Bossert, Mechthild Curtius, Claudia Diemar, Wolf-Dieter Eigner, Herta Müller (yes, all right! The nobel prize winner to be, with her first publication in Germany in SCHRiTTE), Werner Söllner and Manfred Steinbrenner. – Nice stuff!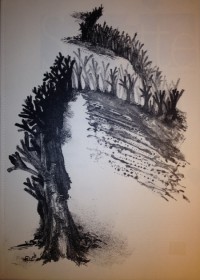 SCHRiTTE • 8
The cover of number 8 was printed by Brigitte Kottwitz who used a printing stone to produce 400 original lithographs in the print workshop of Walter Hanusch. Meanwhile as often as that 400 times in German cafés.
The magazines indluded texts by Stefaan van den Breemt, Dieter Schulze, again Herta Müller, Wolf Biermann, Rolf-Werner Kunz, Adam Seide, Barbara Maria Kloos, Klaus Hensel and Harry Oberländer.
Baskets full of reader's letters and text offers came in and even owners of coffee-houses got in touch to get SCHRiTTE in their cafés – crazy days!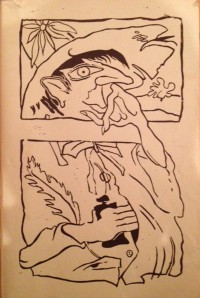 SCHRiTTE • 9 and 10
Walter Diewock created a woodcut for the cover of number 9, which had to be run off 500 times – how the hell did we manage this?!
Contributed texts came from Paul Celan (two unpublished romanian poems, translated by Werner Söllner), Hanne F. Juritz, Gerhard Ortinau (because of his prose »Der Erotomanbabtist«, I, together with the issues, was thrown out by actually wonderful bookseller Mr. Schumann – oh, that times!), Klaus Hensel, Henri Michauz, Rolf-Werner Kunz und Oskar Pastior, the great. - On the left the imprint created with the whole creative technique a typewriter can do.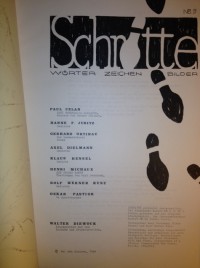 The cover of number 10 was created by Stefan Klamke and contained texts by Ingeborg Haberkorn, Mircea Dinescu, Klaus Hensel, Thorsten Casmir (who later published his mighty novel »Ohnsgrond« at axel dielmann – verlag, right before he died at a much too young age) and Waltraud Zehner.
We used to sew the magazine on an old-fashioned industrial sewing-machine, partly with spine tape made of old bed sheets, partly directly through the thick jackets. Today these copies are rarities and heart-rending examples of handicraft in literature!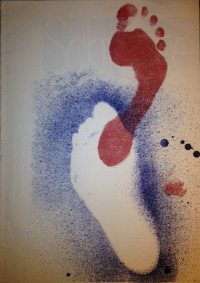 SCHRiTTE • 11
Again Brigitte Kottwitz designed the cover with an original stoneprint – this time the lithograph of two stones, printed in two-colours, over 500 times. Phew!
On the inside great texts by Dieter Schlesak, Christa Moog, Ernest Wichner, Harald Hartung (oh yes!), André C. Lenotre, Mechthild Curtius, Gerhard Falkner and Jan Koneffke.
Single pages of the edition were covered with stencil-grafitti with mighty figures by Uwe A. Rohe, who used to study at the Städelschule – what happened to Uwe A. Rohe?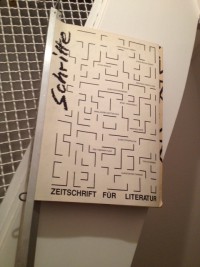 SCHRiTTE • 12
After a break SCHRiTTE appeared brand new – no longer printed by hand but mechanical. It put an end to hours of copying, days of arranging of pages, and arduous printing of covers. – Hans Jürgen Diez took care of three covers in series, serial faces, in an ever finer grid.
The 1.100 issues were spread in almost 900 coffee-houses. Their authors nowadays count to those of special, literary demanding contemporary literature, who delight the hearts of curious readers: Paulus Böhmer, Manfred Riepe, Dorothee Mahringer, Elisas Petropoulos (translated by Peter Mosler), Birgit Vanderbeke, Rolf-Werner Kunz, Alban Nikolai Herbst, Jutta Schubert (who just presented her story-book »Die Nacht mit Marilyn« to me), Hadayatullah Hübsch, Berthold Dirnfeller, Hans-Jürgen Gottschalk and Christopher Tarnow.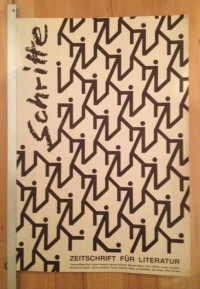 SCHRiTTE • 13
Ökologik AG was an important and extremely committed sponsor of this edition, Deutsche Post was present with an ad and the (highly literary) slogan »Schreib mal wieder« (»Go on Writing«). 1.500 copies were sent to 1.300 Cafés.
The newspaper sticks made of aluminium were produced in my grandfather's cellar. My grandfather, Willie Theis, eighty years old, used to be locksmith, and really enjoyed constructing the sticks. A quite different meaning of »literature engagée«!
Texts in this edition by Gustav Jacobsen (where did he get lost?), Thomas Schwab, Karina Kranhold, Marion Naujack, Peter Kurzeck (retrospectively the second Büchner-prizewinner besides P. Böhmer in SCHRiTTE), Myzels na gCopaleen (yes, just Iike that, and - who hides behind this pseudonymous?), Tomas Michael Back, Lese Verhaken, Ilse Braatz (†), Berthold Dirnfeller und Flann O'Brien, translated by Michael Nagula.

SCHRiTTE • 14
In this edition Giwi Margwelaschwili, Bodil Lindfors, Per-Hakon Pawais, Mikail Bäck, Thomas Wulf, Thomas Schwab, Tua Forssträm, Leif Salmen, Dirk Hülstrunk, Agneta Ara, Adolf Heinzmeier, Manfred Riepe, Bo Capelan, Gungerd Wikholm, Agneta Enckell, Ulla Olin, Franc-Nohain, translated by Thomas Schwab, Martin Enckell, Ulrike Albert-Kuzera, Flann O'Biren as graphic novel by Jörg Ritter, Harry Oberländer, Dick Karlsson, Thomas Stemmer, Guilio Einaudi (right, the wonderful italian publisher of italian literature after 1945), Claes Andersson, Siegfried Holzbauer, Martin Bullinger (oh dear, why did he stop himself from writing his great novels ...?) and Gerhard Schmitz, who translated all of the Scandinavians and made the main emphasis of this edition possible, Hercules!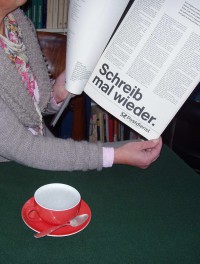 NOW to be continued!
It's self-explaining that this set of authors is a mighty guideline for the next, new SCHRiTTE.
First artists for the cover-designs are already won over. And of course first wonderful texts of all genres have been collected long since – What's about to come?
Stay curious!