Wirtschaftsclub Rhein-Main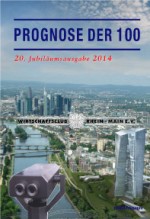 Prognosis of the 100
20th anniversary edition 2014
168 pages
Hardcover in broadsheet
100 prognosis-pages with portrait photos
978-3-86638-100-1
In 2014 the Wirtschaftsclub Rhein-Main published its »Prognosis of the 100« for the 20th time, in which 100 business leaders submitted a personal statement about the social and economic development of the ensuing years.
The underlying idea of the book since 20 years is to give personages with responsibility and influence a chance to speak – not anonymized, as usual, but as personal statement.
The questions or statements of the volume refer to different domains. On the one hand the answers of the selected personages are supposed to reflect the individual assessment, on the other hand the entirety of the assessments reveals a depiction of the time around the year 2013/14. – Extract from the first editorial 1992: »Probably it is challenging for everyone of us to compare own assessments of certain future developments with both the opinion of particular personages and with the trend of the packed statements. ... Eventually, on the day of publication only the trend of the upcoming year is interesting ...«
Several of the participants of the previous »Prognosis of the 100« were:
Hermann Bahlsen, Dr. Wilhelm Bender, Roland Berger, Ernesto Bertarelli, Dr. Rolf-E. Breuer, Wendelin von Boch-Galhau, Prof. Dr. Utz Claassen, Michael Diekmann, Carl-Peter Forster, Wolfgang Grupp, Herbert Hainer, Dr. Jürgen Heraeus, Dietmar Hopp, Albrecht Hornbach, Ernesto Illy, René C. Jäggi, Robert Koehler, Hilmar Kopper, Dr. Hans-Joachim Körber, Dr. Henning Kreke, Markus Langes-Swarovski, Berthold Leibinger, Helmut Maucher, Hartmut Mehdorn, Dr. Thomas Middelhoff, Akio Miyabayashi, Prof. Dr. Dr. Werner Niefer, Dr. h.c. August Oetker, Dr. tech. h.c. Ferdinand Piech, Bernd Pischetsrieder, Hans-Wolfgang Pfeiffer, Kaspar Rorsted, Maria-Elisabeth Schaeffler, Anton Schlecker, Dr. Henning Schulte-Noelle, Hans-Joachim Tonnellier, Dr. Klaus Zumwinkel and many others more.