News



In the Frankfurter Neue Presse Dierk Wolters reviews my book »Nizza oder Die Liebe zur Kunst«.

Sylvia Staude about the »scenic poet« and in-house writer of the publishing company
2019-11-11
»Anstich« unserer 16er-Reihe
Eine schöne Übersicht von Robine Rebmann in der Schwäbischen Zeitung zu einem »Anstich« bei der Buchhandlung Henne in Aalen am 8. November 2019.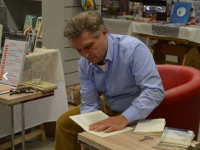 « back «