News

The questionnaire of the Mittelhessen-Bote


extensively reviewed in the Amberger Zeitung


The Maintaler Tagesanzeiger opens with Ewart Reder, Leipzig Book Fair and the publishing company



»Schar Ptiza« as sneak preview-reading: The Rheinpfalz reports enthusiastically!
2016-03-21
Ewart Reder reads in the wing chair
on YouTube: Ewart Reder in the »reading room«, which was furnished by Miriam Spies. 17 minutes challenge for the reader to not mistake himself for the figures of the novel ...
Stay curious: Listen here!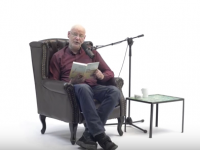 « back «