News

In the Frankfurter Neue Presse Dierk Wolters reviews my book »Nizza oder Die Liebe zur Kunst«.

Sylvia Staude about the »scenic poet« and in-house writer of the publishing company
2016-03-21
Ewart Reder reads in the wing chair
on YouTube: Ewart Reder in the »reading room«, which was furnished by Miriam Spies. 17 minutes challenge for the reader to not mistake himself for the figures of the novel ...
Stay curious: Listen here!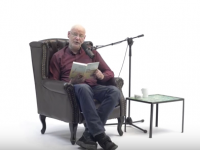 « back «