Books with and on 16 pages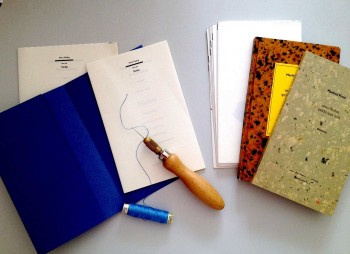 This edition is the smallest book edition at axel dielmann-verlag. It collects surprising literary discoveries on 16 to 48 pages. Every book is thread-stitched by hand following the example of an exercise book. The stitches fit the bookcover in color. (Down below: see the publisher stitching!) This edition offers bibliophilic gems like classical books of the literary modern age, actual writers doing experimental literature, lyrics, essays, trouvaillen (see listed down below).
Every book costs nine euro (if not differently noticed) and can be bought at the bookmarket or directly from the editor. You can also get a subscription.
List of already published »16er«s:
Norbert Abels »Schlummernde Töne sind die Augen des Tages: Der literarische Expressionismus«
Norbert Abels »Georg Büchner: Die Ästhetik des Pathologischen«
Henry Adams »Am Abgrund der Unwissenheit« – translated Sebastion Moll
Florian Arnold & Gerda Raichle »Gioco delle Ombre« – Short narration with 8 paintings in colour (12 Euro)
Inka Bach & Michael Wäser »Am Neuen See. Eine Begegnung« – 24 pairs of poems
Martin Roda Becher »Die letzte Flèche«
Antje Boijens »Requisiten für die Trauer« – An Essay concerning human coping with grief and death
Martin Bullinger »Geruch der Liebe« – 6 excerpts of a novel
Martin Bullinger »saubande / Ein Nachtmagazin« – Special edition in DIN A 4 format (15 Euro)
Malcolm de Chazal »Gesichter in Zeitlupe« – translated by Thomas Schwab, epilog by Carsten Garscha
Jean-Luc Cornec »o.T.« – An artist's edition (special edition, 30 Euro)
Daniela Daub »Immer wieder jetzt« – Poems
Kiki Dimoula »eine minute zusammen / Gedichte«
Berthold Dirnfellner »Robert Schumanns Silvesternacht am Rhein«
Berthold Dirnfellner »Franz Liszts Bayreuth 1881«
Berthold Dirnfellner »Franz Schuberts Nacht der Donau«
Mladen Dolar »Vor dem Gericht der Gerüchte«; part of our »BOX—the wilde Slovenes«
Gerd-Peter Eigner, Asher Reich, Alban Nikolai Herbst, Werner Söllner: »Wer ich bin?« – Notes on Paulus Böhmer
Nikos Engonopoulos »Unterhaltungen mit dem Fahrer verboten«, translated by Asteris Kutoulas
Federico Fellini »Meine Vision umfaßt 360 Grad« – His last interview
Henry Fielding »Essay über Nichts« – right!
Paul Gauguin »Kleckserklatsch« – A bashing of arts critiques
Katharina Hacker & Paulus Böhmer »Von denen Schnecken« – Narration about a grandmother & a Long Poem
Ian Hacking »Leute (zurecht) machen« – The great american soziologist on roles and their effects on us
Alban Nikolai Herbst »Dem nahsten Orient« – Love Poem, German / French
Ulrich Holbein »Nekrolog auf den Ladenhüter« – 10 obituries
Michael Holzwarth »Das gute Klo«, Essay on the history of an underestimated location
Martina Hügli »am ohrenäquator« – Poems
Dirk Hülstrunk »den fehler wiederholen« – Poems
Victor Hugo »Promontorium somnii / Vorgebirge des Traums« – Essay on the entire aethetics of Hugo
Gustav Jacobsen »Die Limousine« – Narration between San Francisco and Frankfurt am Main (it was one of the first volumes of the series, and still, one of the best!)
Frank Jakubzik & Jan Gelhaar »Ein freundlicher Herr« – 4 narrations and 4 artistic pictures
Konstantinos Kavafis »Familie Kavafis« – Short portraits from a most wayward family
Heinrich von Kleist & Vera F. Birkenbihl »Über die allmähliche Verfertigung der Gedanken beim Reden«
Bruno Klimek »Wagni & Verder« – Theater play on a meeting never taking place
Barbara Korun »Der Wolf und die Wunde«; a volume in our »BOX—the wilde Slovenes«
Erwin Köstler »Slowenische Klassiger«; a volume in our »BOX—the wilde Slovenes«
Renate Krämer »nachts« – A narration, sold out
Sophia Lippemeier & Axel Dielmann »Drei Generationen Goetheturm« – A landmark, burned down, and rebuilt
Ana Martins-Marques »Gardens« – Poems, from brasilian Portugues by Michael Kegler
Dagmar Mangold »Der Kunde ist König« – Anekdots from the world of retail trade
Esther Mohnweg »Ein Blackout genügt. Schon / haben sie dich« – Long Poem
Solveig Müller »Peps und Papo« – On all the house animals of Richard Wagner, composer
Harry Oberländer »Zwischen den Zeilen / Über Victor Otto Stomps«
Gérard Otremba »Die geheimen Aufzeichnungen des Buchhändlers«
Gérard Otremba »Ein weiterer Tag im Leben des Buchhändlers«
Renate Passow & Boris von Brauchitsch »Künstlerportraits« – In Colour
Ewart Reder »Aufstand – 3 christliche Nachdichtungen« concerning the story of Eastern
Klaus Reichert & Paulus Böhmer »Notiz über Monster / Eben noch, Vor langer Zeit, Jetzt«
Manfred Riepe »Und keine Hoffnung, auf keinen Fall Hoffnung ...« (it was volume No. 3, a little gem, still!)
Michael Rieth »Die Selbstbildnis-Trilogie«, 3 volumes, each with a poems' cycle
Jannis Ritsos »Die Mondscheinsonate« – A classic of the format Long Poem
Siegfried Schröpf »Marina« – A story from Spanish Civil War
Thomas Schwab »Ein Leser auf Reisen« – Poems concerning everything a good book should have
»Aleš Šteger im Gespräch mit Tomaz Šalamun«; a volume of our »BOX—the wilde Slovenes«
Gertrude Stein »Geburts=Tage=Buch« – right this it is!
Jamals Tuschick »Pappe kauen« – A piece of Prosa, for Christmas 1998, sold out, sorry!
Cesar Vallejo »Pariser Gedichte«
Olaf Velte & Vroni Schwegler »Mengfrucht« – also in a special edition with an original auch als Vorzugsausgabe mit Original Edging (this: 180 Euro)
Olaf Velte »Träumt Raabe«
Olaf Velte »Herr Auditeur Grabbe / Zur Stadt Frankfurt«
Olaf Velte »Ein paar Dichter« – Poems on the poets most admired by O. Velte
Carl Vogel »Die letzte Krankheit Goethe's« (– this was the very first of the »16er«s, well, some 30 years ago!)
Everything is summed up in the »download« at the bottom of the page.
See now a little collection of fotos showing the public production »First Stitching« of a series »16er« book.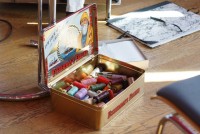 I occasionally show by using needle and thread how a nice little stitched booklet with sewn binding is made from a printed sheet and a cover. "Grown" books (i.e. with more then just some dozends of pages) are developing from this basical technology. I simultaniously tell stories from the daily business from 25 years of publishing and …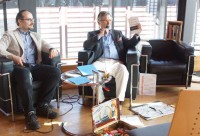 … the series »16er«. Over the years there were unexpected and crazy daily events, small booklet editons but also titles becoming bestsellers. For example Gerard Otremba's »The Secret Notes by the Book Seller (Die Geheimen Aufzeichnungen des Buchhändlers)« …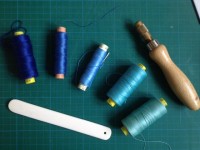 which became famous over night and caused a mad rush in the office. – It is now published in its 19th edition and sold 56.000 times. By this keeping 22 stitchers busy. I mean: really busy! – The serie »16er«s also caused serious stage fright as one of the booklet's story was presented at the famous Pina Bausch Theatre in Essen.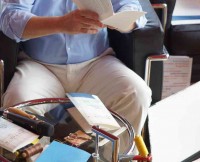 While stitching, I go on telling these stories, for instance of the semi-profesionell bookbinder who stitched his thumb into a booklet, and how the famous Vera F. Birkenbihl invented a parallel text for Kleist's Booklet. – Or this one: Why did Gustav Jacobsen refuse to take off his big dark sunglasses while he negociated the author's contract for »The Stretch Limo (Die Limousine)«? I'll explain it to you …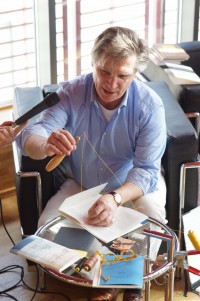 … he just thought of getting a stronge position in negotiation for his contract to »The Strech Limo (Die Limousine)«. – And why is the box with cotton thread reels from Fishermans Friend? And why …
How so ever, these booklets of series 16er serve as the basis of every bound book. An introduction into the small booklet's body is tested in the beginning – for example here at the Ulm Book Fair (Ulmer Büchermesse 2018); see above the work with Florian Arnold at the book »The Good Loo (Das gute Klo)« by Michael Holzwarth. – All these introductions or instructions could very well be watched at any other event and occasion, not only at bookfairs.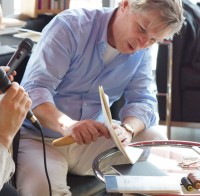 Readings from some of the booklets make it easier to follow the technical performance. For example from »A Very Friendly Man (Ein freundlicher Herr)«, who is working as a janitor in a school and produces strange artwork.
An other booklet is »My Vision … (Meine Vision …)« by ­Federico Fellini – and there are some 50 titles upto now.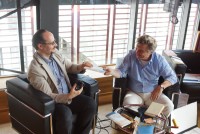 Here you see Florian Arnold receiving the first stitched copy of »The Good Loo (Das gute Klo)« at Bookfair Ulm in 2018. –
With pleasure I visit bookstores and other presenters to show the method of stitching and to explain the series »16er« to their audience.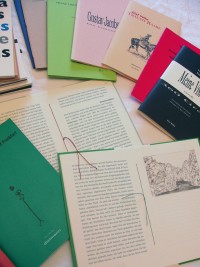 Contact
for presenters that would like to have a »First Stitching« on their stage, please contact:
Axel Dielmann,
neugier@dielmann-verlag.de,
+49 – 69 – 9435 9000


Once again, in detail, if you'd please?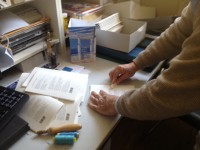 Well, yes:
In this series of fotos you see the production of the very first copys of die Produktion des 16er-Bändchens von Florian Arnold's (Erzählung) and Gerda Raichle's »16er« (Gemälde) mit dem Titel »»Gioco delle Ombre«: First step, sampling the printed sheets and folding and creasing them in the midle.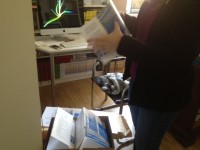 In folding the book's 28 pages, that is 7 sheets, the cover is to be creased at its spine – the printer has pre-dadoed the spine and the two flaps. So »Gioco delle Ombre« only has to be squeezed to keep closed – until you will open it and read.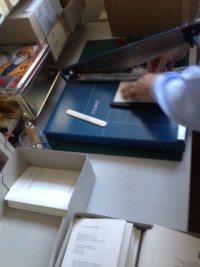 Meanwhile at the books body: The grooved sheets on its open part still show some graduation, so it is cut here – its important to watch the width of the book to prevent the block from peering the cover!
And now, how many copies could one bind by hand without in the fury of production stitching your fingers and fold hands? – We get 200 copies at one go – and that is just what we need …!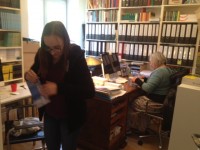 While Anna presses the last covers, Dagi already fetched the grooved and yet cut blocks of »Gioco delle Ombre« – and starts stitching: the three stiches have to be placed in a certain sequence, otherwise the needle moves on without cutting the thread or tangle it. – Keep concentrated, don't start reading at work!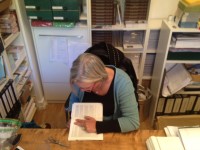 Tja, da muß man dann durch – und das Bändchen heißt ja auch nicht »Gioie dell' Uomo« …
… never try to achieve all this alone by yourself …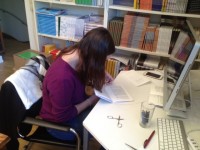 Last step of procedure after stitching: get the knots fixed, always double knots to make sure the book copes even with rougher readers – and that's it, that's »Gioco delle Ombre«.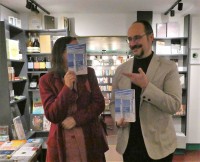 And the authors, in this case Gerda Raichle and Florian Arnold, are happy with their new title and present it to their readers with bride, for example in Aegis Bookshow in Ulm.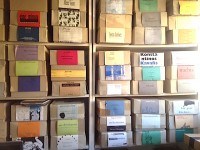 And now they all cuddle (we mean the books, not the readers and authors, sorry!) up in our »area for small parts storage« – until …
Well, until you buy them, read them, enjoy them – get ready, get reading!

Download

130 KB